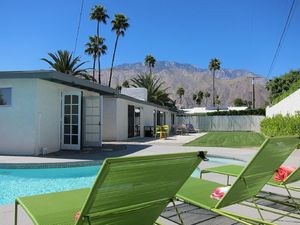 "Great weekend stay in Palm Springs! Location of house was great. Easy walk into town, and quick car ride to everything. Best located Airbnb we have rented thus far in Palm Springs. House as described and host very communicative." - Thuy-Anh, 3/01/2020 (AirBnB Review)
"Drew's place was great for our family. The layout of the house was comfortable and very kid friendly. Spent alot of time in the beautiful back yard and swimming in the hot tub and pool. Also, frogger!" - Andrew, 3/01/2020 (AirBnB Review)
"Great place for family and friends." - Jack, 3/01/2020 (AirBnB Review)
"Very nice place, comfortable, well appointed, and beautiful views from the backyard. My wife, daughter and I very much enjoyed this home. We slept well in the comfortable beds, very much liked sitting in the backyard and taking in the views, and enjoyed each minute we stayed." - Daniel, 2/01/2020 (AirBnB Review)
"This place is truly wonderful. Morning walks to Ruth Hardy Park, afternoons by the pool and evenings making big dinners in the fully equipped kitchen. And the beds were amazingly comfortable. My kiddo would want you to know that the Frogger video game was his favorite part of the entire trip (despite us visiting Joshua Tree!)." - Leslie, 2/01/2020 (AirBnB Review)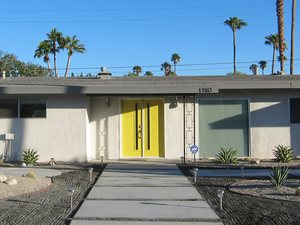 "This is a great option for Palm Springs. Great house, nice furnishings. A quick 10 minutes to most places you want to go. And it was fun staying in a real mid-century modern for Modernism week!" - Jeff, 2/01/2020 (AirBnB Review)
"Drew provides a great experience. The home is a mid century modern dream. He is quick to respond and the house was just as pictured." - Robin, 1/01/2020 (AirBnB Review)
"Great house! The yard and game garage were really fun amenities and the interior was super clean. Curb appeal of the house is really great. Drew was a great host and Outside of a few hot tub heating issues, all was good!" - Andrew, 1/01/2020 (AirBnB Review)
"Great space for a quiet weekend away. Location and neighborhood was ideal, the house was nicely furnished and spacious. We will be back!" - Kyle, 11/01/2019 (AirBnB Review)
"The place was a perfect oasis for our family weekend getaway. The pool and outdoor area was so comfortable and the house was well decorated, modern and we felt very much at home. Would highly recommend - Drew was very responsive and it was easy getting in and out. We LOVED it!!!" - Stephen, 11/01/2019 (AirBnB Review)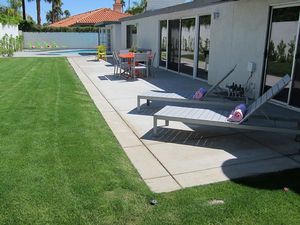 "The house is exactly as described if not better. We spent the weekend at Drew's house and had an amazing time! We were two couples and there was plenty of space and entertainment. The pool is great so is the back yard and the hot tub. The kitchen is well equipped and we enjoyed eating outside. The game room is awesome! Also, the communication with Drew couldn't have been better. He was always available and ready to help when needed. The instructions for checkin and check out were clear and made the whole process easier. The area is very well located and a few minutes away from everything. I definitely recommend Drew's house and I'm sure you'll love it too! Thanks again, Drew!" - Petra, 11/01/2019 (AirBnB Review)
"Host communicates well and the location is great. The house was amazing but wish the AC was cooler." - Mark, 9/01/2019 (AirBnB Review)
"Nice place, exactly like the pics, enjoyed my bday weekend here. They are very strict and have you filling out a bunch of forms before arrival and during your stay." - Shaghayegh, 9/01/2019 (AirBnB Review)
Our strictness and the paperwork requirements are a product of the regulations imposed on vacation rentals by the City of Palm Springs to keep the peace in residential neighborhoods. They are required from all hosts who offer private home accommodations in the city and have done a pretty good job of educating guests of their responsibilities to not disrupt neighborhoods and make a nuisance of themselves to local residents. While the city of Palm Springs has probably gone a tad extreme with their effort (under intense pressure from a very vocal anti-short term contingent), all Airbnb guests should probably come to expect this kind of thing being adopted in all locations in order to keep private home rentals as an accommodation option.
"Drew was an excellent host and this AirBnB was nothing short of perfect. Great location and such a nice and relaxing home vibe. Would definitely recommend!" - Kenneth, 8/01/2019 (AirBnB Review)
"The house was ready clean and spacious. Plenty of amenities and a great house to relax with friends and family." - Ernest, 8/01/2019 (AirBnB Review)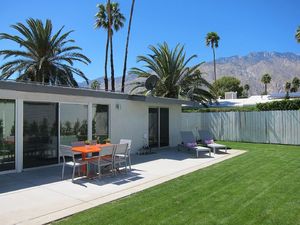 "I celebrated my birthday with friends at Drew's place and it was amazing. The house is exactly as pictured and has so many nice touches. The pool and lawn were incredible, beds were comfortable, and neighborhood serene. I couldn't have asked for a better birthday and would definitely recommend this home to anyone looking to have a quiet, relaxing, carefree vacation." - Neghar, 8/01/2019 (AirBnB Review)
"Drew's home is absolutely immaculate, clean, quiet and charming. It was absolutely perfect for our 2 families: lots of space and privacy if needed, and many group spots as well (the kids loved the play room with arcades games). We really appreciated the fact that the house corresponded exactly to what we found upon arrival. Our host was super responsive and helpful, which was a great plus. And the view on the mountains during sunset from the garden and pool/spa is so just beautiful... Would definitely recommend this house (and we rented quite a few in Palm Springs)." - Audrey, 8/01/2019 (AirBnB Review)
"It was an amazing experience. We didn't want to leave this house. Everything was just perfect. Everything up to date. When we arrived was so easy to check in. We forgot some items but the fridge had more than enough. The jacuzzi was just perfect. The temperature of the water was my favorite. Words cannot described how much fun we had in this house. I can't wait to come back again. Drew was always available and I thank him for letting stay in his beautiful home." - Claudia, 7/01/2019 (AirBnB Review)
"Hello, Drew thanks for sharing your place with us. Place was very clean, location was perfect and your quick response to our concern was great. If we come back in this area we definitely rent your place. Sal-" - Salvador, 7/01/2019 (AirBnB Review)
"Very accommodating, excellent atmosphere, great typical Palm Springs experience." - Michael, 6/01/2019 (AirBnB Review)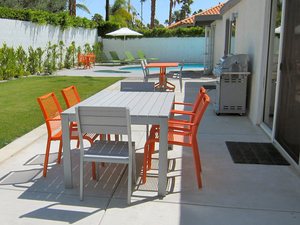 "Great house, great hospitality, overall recommended highly." - Matt, 6/01/2019 (AirBnB Review)
"Excellent amenities: grill was clean (even had extra propane in the garage if needed), pool was enjoyable, billiard, cornhole, old school arcade games, and bikes! So much fun. I didn't use the spa though. If you like to enjoy the summer weather this place is great. Inside was clean, comfortable, spacious and modern feel. I would definitely like to come back. Location was great too." - Greg, 6/01/2019 (AirBnB Review)
"House and location was great. Plenty of entertainment." - Domenico, 5/01/2019 (AirBnB Review)
"The house was great and perfect for our family vacation. It was kid friendly for our son. The backyard was perfect for lawn games while lounging by the pool. We thoroughly enjoyed our stay!" - Katie, 5/01/2019 (AirBnB Review)
"Nice place great location!" - Albert, 4/01/2019 (AirBnB Review)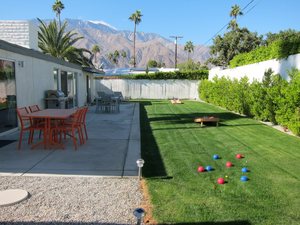 "Drew's place was great! Extremely clean with plenty of space and amenities for a small group." - Nick, 4/01/2019 (AirBnB Review)
"Drew's home was more than we expected! It was a beautiful place and sparkling clean when we arrived. My friends and I had an amazing time relaxing during the weekend, and we would definitely book this place again the next time we're in town." - Azusa, 4/01/2019 (AirBnB Review)
"Drew's house was a perfect spot for our family vacation! We have three small boys (2, 5, & 8), and the house layout and amenities were perfect for us. The pool was clean and a perfect size, there were plenty of pool chairs, pool floats/noodles, and umbrellas, and the outdoor games (bocce, croquet) made for a nice respite from the pool when we needed a change of activity. The garage arcade games were a huge hit too! The house was clean and well-stocked with all of the towels, blankets, kitchen gear, etc. that we needed. I only wish we'd had more of a reason to use all of the barware stocked in the pool house! :)" - Chloe, 4/01/2019 (AirBnB Review)
"Nice place great location!" - Albert, 4/01/2019 (AirBnB Review)
"We had a lovely stay at Palm Springs MidMod. There were some extra details to work out in advance to firm up the reservation but the communication was very efficient. The house was in a great location—very clean and picturesque, and it met our needs perfectly. Great kitchen and the master suite was especially nice. Our kids loved the pool and playing in the yard. Drew was very responsive and helpful when we had a small issue arise. We'd definitely return!" - Anna, 3/01/2019 (AirBnB Review)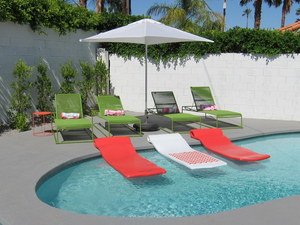 "We had an excellent stay in Palm Springs. The house is immaculate and the location was perfect. The views from the house were stunning. The backyard was completely private and the kids always had something to do. The house was equipped with all the necessities you would need while on vacation. Drew, the owner, was always responsive and informative. Would definitely recommend this home." - Melanie H., 01/06/2019 (VRBO Review)
"Great house and great location. It's an extremely quiet neighborhood. Loved everything about it." - Padraig, 1/01/2019 (AirBnB Review)
"We had a fantastic time at Drew's place, on a trip with our toddler and inlaws! The house is stylishly designed and thoughtfully laid-out. The pool and hot tub are great, as is the lush lawn (great for toddler play!). And it's just 5 minutes from downtown Palm Springs and just about anything you'd want to do in town. Communication with Drew was quick and easy. Highly recommend!" - Kyle, 1/01/2019 (AirBnB Review)
"Super cool house in a great location! We loved the set up and it had everything that we needed. The yard was amazing!" - Debra, 1/01/2019 (AirBnB Review)
"Great house. Everything was as described. The outdoor areas and converted garage with pool table and retro video games were a big hit with our group, but everything else was high quality as well. Very professional host and communication leading up to our arrival was extremely clear. We'd stay again. Thanks!" - David, 12/01/2018 (AirBnB Review)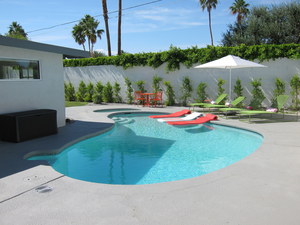 "Really enjoyed our stay here. Extremely well equipped and plenty to do." - Craig, 11/01/2018 (AirBnB Review)
"This place was INCREDIBLE. From the layout of the house to all the amenities and the view and pool in the backyard, it was exactly what a few of my friends and myself were looking for this weekend. Upon arrival everything was clean and perfect. Prior to the trip and throughout Drew was communicative and helpful and really kind and professional. I would definitely recommend this home and would love to go back for another relaxing weekend. Thanks Drew!!" - Andres, 11/01/2018 (AirBnB Review)
"I've stayed at this property for a long weekend (4 days total) and I had a great time." - Bernardo, 11/01/2018 (AirBnB Review)
"Better than the pictures ! Easy to communicate with Drew. We had a wonderful week end with friends and kids !" - Estelle, 10/01/2018 (AirBnB Review)
"The home is convenient located close to the downtown area where there is amazing shopping and dining. The home was very clean and spacious for a group of 6. Drew was very polite and always quickly responded to our questions. We hope to be back soon as we had a great time." - Noel, 10/01/2018 (AirBnB Review)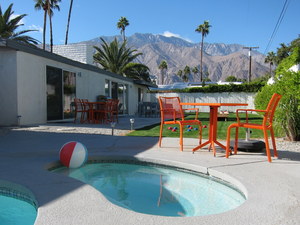 "Great experience in a great and private house in the desert. Owner was very easy to communicate with and very thorough." - Scott, 7/01/2018 (AirBnB Review)
"Love this house! Spacious, modern, fun! Games in garage were great! About 7 mins from downtown, great location! Relaxing!" - Cindee, 7/01/2018 (AirBnB Review)
"We loved staying here. The house is great, it could easily accommodate a group of 6 adults, it was Central to Downtown without being in the thick of it and the pool was amazing. I will definitely stay here again." - Ben, 6/01/2018 (AirBnB Review)
"A wonderful home in a great location! A perfect place to get away, enjoy the pool and amenities, and only a few minutes away from downtown Palm Springs! Can't wait to be back!" - Jayson, 6/01/2018 (AirBnB Review)
"Didn't get a lot of use of the hot tub as the controls seemed finicky and didn't warm up. Likely user error. Otherwise the place was great for us." - Shane K., 05/04/2018 (VRBO Review)
Sorry you had difficulty with the pool controls. We would have been happy to assist if you let us know there was an issue.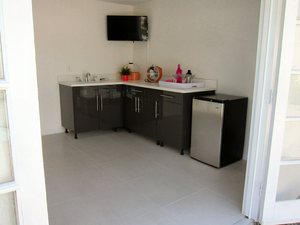 "Couldn't have been happier with how Drew catered to everything we needed! I did have a lot of questions and he made us both feel comfortable throughout the renting process. His home has everything you can ask for .. seriously. They even had the spices we forgot at home making lunch. I really appreciate the time we spent there. Thanks Drew!" - Ryan F., 05/04/2018 (VRBO Review)
"We had such an AMAZING time at Drew's house and are already planning a return trip! The house was as described: clean, stylish, great amenities, and such a comfortable bed! Drew was a great communicator with emails throughout the entire process, and check-in/check-out was a breeze. The pictures don't really do the outdoor space justice, as the mountain views were absolutely breathtaking. The proximity to town was awesome to Uber/walk to all the local restaurants and bars. We'd highly recommend Drew's place to anyone looking to explore Palm Springs, relax, and get away from it all." - Erica, 5/01/2018 (AirBnB Review)
"I really appreciated your communication throughout. We enjoyed your home and I would consider staying at your other properties because of such a smooth process, the cleanliness, attention to detail, amenities provided to allow us to cook almost all our meals, and the ideal location." - Sarah, 5/01/2018 (AirBnB Review)
"Very lovely and cozy. Completely private backyard. Quiet neighborhood. Everything was very clean and well kept. There were no surprises. And the attention to detail was superb! The owners made it very easy. Highly recommended!" - Anonymous, 04/10/2018 (VRBO Review)
"GREAT house, perfect location, with all the right amenities. Game room on point!, Pool and hot tub were our favorite spots to be. The pool house was ideal for me to also get some work done while the family relaxed by the pool. The house is very clean, well organized with a lot of detail and finesse. We love this place and will definitely come back, because it is so much more fun than staying at a hotel." - Boi, 4/01/2018 (AirBnB Review)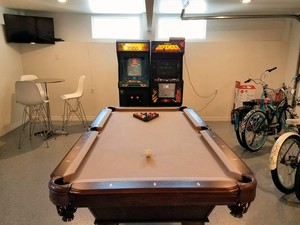 "Drew's place in Palm Springs is beautifully laid out, comfortable, clean and perfectly located. I would highly recommend it to anyone." - Joel, 4/01/2018 (AirBnB Review)
"Merci à Drew de nous avoir loué sa magnifique maison! Très bien située, bien équipée et dans un décor fabuleux! Les enfants ont adoré la piscine et l'espace sur le terrain pour jouer au ballon! Les vélos sont un ajout très intéressant pour découvrir la ville! Quartier très sécuritaire et tranquille! Épicerie et restos tout près! Merci encore!" - Martin G., Montréal, Canada , 03/16/2018 (VRBO Review)
"We loved the house and had a great time trying to get high scores on Frogger and Centipede." - Asha S., 12/27/2017 (VRBO Review)
"Everything was fabulous. The outdoor area pool and spa were perfect. The house showed off its midcentury modern character with aplomb. Relaxing and refreshing to stay here!" - Peter M., Salt Lake City, 11/02/2017 (VRBO Review)
"A group of four of us recently enjoyed a long weekend in Palm Springs and were very pleased with the home. The location is central, the house is clean and nicely furnished with a convenient layout, and the game room in the garage is a nice bonus. We mostly lounged by the pool and hot tub, which have total privacy and a great view of the mountains. Would definitely stay here again." - Christian D., 10/19/2017 (VRBO Review)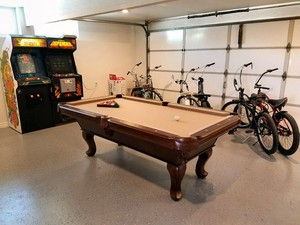 "It was definitely an amazing getaway home that I plan on coming back soon." - Tony, 10/01/2017 (AirBnB Review)
"A beautiful, super stylish home from home. Perfect for a luxury weekend escape. Immaculate, well equipped and very comfy beds. Would recommend and definitely stay here again." - Sian, 10/01/2017 (AirBnB Review)
"So lucky we were able to book this air bnb last minute! Such a cute space and the location was awesome. Will definitely keep this place in mind next time we go out to Palm Springs! Thanks Drew!" - Melissa, 9/01/2017 (AirBnB Review)
"This place was exactly how it was described, awesome definitely will stay again when we return." - Tom, 8/01/2017 (AirBnB Review)
"Thank you so much for sharing your lovely home, and on such short notice. Very impressive modern home, beautifully decorated interior and private backyard space, yet quietly unassuming but nicely decorated front yard. Everything was very clean and meticulous. Easy to move from our home directly into yours with NO discomfort. What a great home! Thanks again Drew!" - Jordan, 8/01/2017 (AirBnB Review)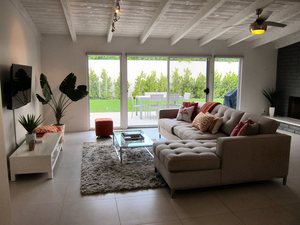 "Three of us celebrated our 40th birthday's here. It was wonderful! We floated in the pool, cooked in the well-stocked kitchen, and watched movies. Super relaxing and we thoroughly enjoyed our stay." - Amanda F., Dallas, TX, USA, 07/12/2017 (VRBO Review)
"The place is exactly as shown in pictures. Everything was in great condition and clean. We enjoyed the pool, yard and yard games, and the fun/modern decorating. Would highly recommend for a getaway to the desert." - Raquel, 6/01/2017 (AirBnB Review)
"This house is quiet and relaxing. Very clean and modern. Drew is a great host with great communication and made our stay very easy." - Melissa, 6/01/2017 (AirBnB Review)
"The property is well taken care of with every need for a Palm Springs weekend through of ahead of time. From the pool floats, to outdoor dining set up to the magazines and awesome kitchen we only had to bring in the food and drinks" - Tara B., 05/22/2017 (VRBO Review)
"We stayed here with another couple and our very young kids, and we really enjoyed the house and all its amenities. The house was nicely renovated, the backyard was a nice size and the pool was great. The cornhole and bocce sets provided were a nice bonus. In addition, the pool house was a great retreat during the very hot weather we had for the toddler to hang out and play or watch tv while being in eyesight of the adults in the pool. Drew was also great to deal with. Would definitely stay here again" - Jennifer C., 05/07/2017 (VRBO Review)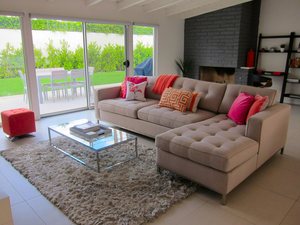 "This house exceeded our expectations. We were a bit worried that booking a house in a residential neighbourhood that we wouldn't get the vacation feel but when we arrived we found that the house is beautiful and the back yard is very private and secluded. We had a perfect weekend get away and would love to return in the near future" - Tom P., 04/26/2017 (VRBO Review)
"Our family had a great time at the house. Drew, the owner, is thorough and responsive to all questions. The pool and backyard area were perfect for lounging. The games provided, along with the bikes which cost a bit extra, were a lot of fun. I would stay here again in a heartbeat." - Asir F., 04/19/2017 (VRBO Review)
"Very much enjoyed our quick getaway. The home was great" - Linda C., 04/09/2017 (VRBO Review)
"Really enjoyed the place, also the owners are very thorough in their instructions for how everything works. Very clean, great amenities, although the lack of shade outside is a little bit of a bummer. Lastly, we felt they watered the lawn too much. We are still in a drought and this amount of water is unnecessary and not sustainable." - Meghann C., 03/22/2017 (VRBO Review)
Thank you for your feedback and we are glad you enjoyed your visit. While we do provide umbrellas for shade in the backyard, we do understand that the area is quite large and expansive, without much tree cover to obscure our amazing views of the San Jacinto mountains. We do have plans to build a large pergola structure to offer additional relief and that is scheduled to occur during our slower season so as not to impact any of our guests. As for the lawn watering, two points to note here. First off, we have had a very wet winter (certainly by Palm Springs standards), and that has resulted in very lush greenery both in our backyard as well as throughout the area in general. More importantly, the week before your arrival, which marked the arrival of warmer, 90 degree weather, our landscapers fertilized the lawn for the coming summer season and that required temporary additional watering for the fertilizer to properly set. This was only a temporary situation and we water no more than is required to keep our lawn somewhat healthy. We are very conscious of the drought situation in California, having gone so far as to remove almost 2,000 feet of turf from our front yard, replacing it with desert hardscape to make a very dramatic reduction to our water consumption footprint.
"We spent a week at this wonderful home in Palm Springs. We travelled with three teens and sometimes that can be a challenge to keep them busy. Not at this place, kids enjoyed the pool, hot tub and loved the games room. Kids loved the pool table and the arcade games The home is well appointed with comforatable beds and lots of space. Location was perfect for exploring Palm Springs as it was a short walk to downtown Palm Springs. We did have an issue that required us to call the owner. The owner responded immediately, had someone at the home working on the problem very quickly and it was rectified probably within an hour. You can tell that this owner cares not only about the home but about the people that he is renting to. I would highly recommend this property, everything was perfect for our short stay in Palm Springs." - John F., 03/14/2017 (VRBO Review)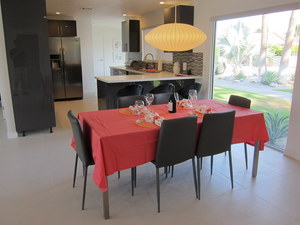 "Palm Springs perfections. Gorgeous home with spectacular decor. The beds are *heaven* to sleep on after a day in the sun. We loved this place for the grassy backyard with pool and hot tub. The pool house was a perfect spot for the baby to sleep while we soaked up the sun by the pool. The garage a very cool room too w the pool table as an alternative place to hangout." - Melanie, 3/01/2017 (AirBnB Review)
"Nice home great location" - Paul M., 02/19/2017 (VRBO Review)
"Extremely fair and responsive landlord. No issues what so ever. No nonsense." - Eugene K., 02/15/2017 (VRBO Review)
"Very clean and comfortable house. Stunning view from the backyard and front yard. Quit an safe neighborhood just beautiful to walk and bike around." - Joel K., 02/05/2017 (VRBO Review)
"We could not have been happier here! Such a beautiful spot and the house was amazing!" - Brenna, 2/01/2017 (AirBnB Review)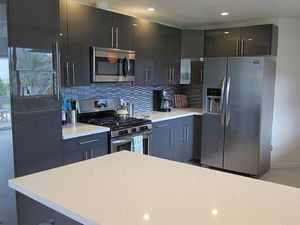 "We were 4 women in our 30s who came to Palm Springs from Edmonton, Canada for a weekend away. While the weather wasn't ideal for us wanting to escape our own cold, this rental was perfect. Spotless, trendy and ideal location. If it was nice out, we would have been in heaven with the bike access and beautiful yard and pool. We still miss the breakfast nook with great views of the mountains. Drew was helpful and responsive with all our questions. Highly Recommend." - kim p., 02/01/2017 (VRBO Review)
"Beautiful home! Everything was exactly as described, very clean an organized. We will definitely reccomend and be back. Drew was a great host and made our stay a great time!" - Nigel, 1/01/2017 (AirBnB Review)
"Drew's place was amazing! He was easy to communicate with and quick to respond to any questions we had. Would definitely stay here again!" - Mike, 1/01/2017 (AirBnB Review)
"Quick desert trip with the wife. Clean, beautiful, simple. Everything as advertised. No surprises. Helpful owner. Easy in/easy out. Would definitely return." - Robert S., 12/20/2016 (VRBO Review)
"The house is in a great area close to everything in Palm Springs. The pool and cabana made the stay outstanding! Kitchen is fully equipped. Master bedroom is beautiful. Drew was easy to contact and quick to respond. We will definitely be back." - Brenda L., Calgary, AB, 11/15/2016 (VRBO Review)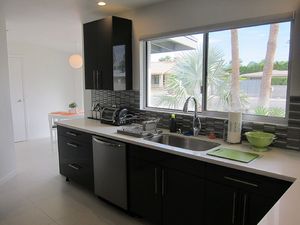 "Spent a weekend at this Mid Mod gem when in town for Desert Trip. The house slept 5 of us comfortably and the linens and towels were all great. The pool is perfect for relaxing and enjoying an incredible view of the mountains. Definitely a great place to stay in Palm Springs." - Meredith D., 11/07/2016 (VRBO Review)
"Drew thanks for being a great host.THE house was awesome great location.Love your fully stocked kitchen. AND view of mountains from backyard awesome, Everyone had a great time. Drew thanks I look forward staying at your beautiful home again.Michael Nov-2016" - Michael, 11/01/2016 (AirBnB Review)
"Had a fantastic experience staying at Drew's Palm Springs Midmod. The description of the place was 100% accurate, location was ideal. Drew was very well organized with regards to the check-in procedure. He responded fairly quickly when we needed his assistance. Would definitely recommend this place to anyone visiting palm springs!" - Remo, 10/01/2016 (AirBnB Review)
"The house was everything it was discribed to be. We felt very comfortable and had everything you could possibly need. The neighborhood is so charming and extremely quiet. The location was perfect being so close to downtown and with all the shops and restaurants. The house overall was extremely takencare of. The pool was perfect for a day in the sun and a BBQ on the back deck. I would 100% recommend this house." - Jeremy, 9/01/2016 (AirBnB Review)
"The host canceled this reservation 2 days before arrival. This is an automated posting." - Jonathan, 9/01/2016 (AirBnB Review)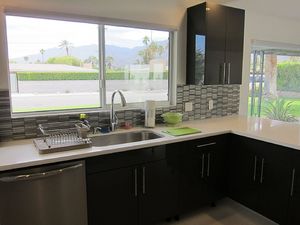 "Extremely impressive. This is the best way to describe it from the moment you walk in through the front doors you feel like you are in a paradise home. It is a beautiful set up and very spacious and cozy for you and the entire family. The backyard area and swimming pool was also fantastic and fun for the entire family I will definitely come back to this home." - Jaime S., 08/24/2016 (VRBO Review)
"Beware of this property!!! The owner does not state surveillance camera all over the house so if you don't mind being watched, then it's ok to stay here. He will email you and blame it on the \" - Maria P., 08/20/2016 (VRBO Review)
We advertise and price our beautiful home to accommodate up to 6 guests and require all guests to fill out a guest list and sign a rental agreement to acknowledge this limit. This guest completed that process and listed 6 names on their guest list and even confirmed that list the morning of their arrival. They then showed up at the house with 12 people, twice the allowed number and in complete violation of their agreement and Palm Springs vacation rental regulations, which prohibits any more than 8 guests at a 3 bedroom property. To save a little money on their accommodations, they were willing to crash on the floors and treat our home as a \
"Overall, it was a nice place to stay for a weekend getaway. The place was very clean, which I like. The kitchen was spacious but very basic. The master bed was very comfortable, and the master bath was beautiful. The other bedrooms were okay, but the beds were very uncomfortable and hard as a rock. The back yard was huge, but very little shade and no trees. I might recommend a little more shade, especially during the summer months. There are a few things that I think could be improved. I would recommend a bit of color and artwork in the house, as it felt a bit cold with the gray walls and white floors and absolutely no artwork. The living room sofa was very uncomfortable and not inviting at all. We also felt the detail instructions we received from the owner had us walking on eggshells. We had a hard time relaxing as we felt we would lose our deposit if we made a minor mistake or if we didn't put something back right where we found it. I realize you have to cover yourself, but it felt too stringent. Even after we left, I felt I received the third degree because something blew into the pool and clogged the pipes, which had nothing to do with us. As I said, it's not a bad place. There're just a few things that could make this place great!" - Jae H., 08/16/2016 (VRBO Review)
Thank you for your feedback. We have now had our Palm Springs vacation rental for a few months and, as noted in our advertisement, it is still somewhat a \
"Everything was so wonderful, we had an amazing time!! This home is perfect as a vacation rental if you are heading to Palm Springs to swim, decompress, and have the ability to cook your own meals, all while remaining a close drive to downtown. I've stayed in a lot of rentals out there, and this was the best by far- they have a really great system down, and everything was as promised. I'm a little OCD when it comes to being orderly and clean, and this rental home was one of the first that there was literally nothing wrong with it in that department. It truly allowed us to have an amazing vacation. The communication was also quick and easy!" - Courtney T., 08/04/2016 (VRBO Review)
"Drew, thanks for being a great host. Everything was just like you described. Your communication and follow up with me was great. I look forward to staying at your beautiful home again in the future. ~Walter" - Walter, 8/01/2016 (AirBnB Review)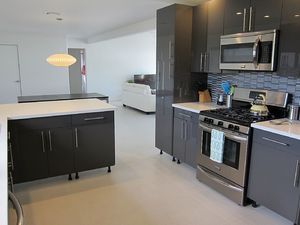 "The house was well appointed inside and out. We utilized the kitchen and pool our entire trip! We loved the openness and decor of the home and would recommend it to anybody! The pool water was a bit too warm but it is to be expected in 100+ summer in Palm Springs." - Joey, 8/01/2016 (AirBnB Review)
"This place was just what the doctor ordered. Gorgeous home inside and out. The little cabana room type of thing adjacent to the pool was a super nice touch as well." - George C., 07/07/2016 (VRBO Review)
"Overall, exactly what we were looking for. Next time we will stay three nights." - Tyler, 7/01/2016 (AirBnB Review)
"Me and my 3 buddies had a blast at this modern home. The backyard was perfect for our cornhole and Kan jam fun. The pool was a bonus as wel . The home was clean and the beds were extremely comfortable. The only knock would be the seating around the television. Not conducive to 4 adults relaxing comfortably. If there was one more love seat or a recliner that's all it would take. Overall we had a blast and would definitely return to this home" - Kevin S., 06/20/2016 (VRBO Review)
"집이 너무 좋았어요. 같이 갔던 친구들도 너무 좋아했구요. 다음에 기회가 되면 다시 놀러가고 싶은 곳이였어요. 감사합니다" - Jason, 6/01/2016 (AirBnB Review)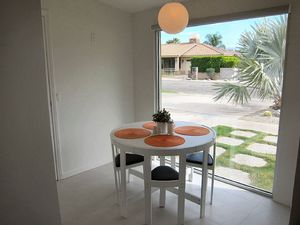 "Awesome property in great location - short ride to downtown, close to grocery store and Starbucks, yet very private and in a quiet, sophisticated neighborhood. The house was well-stocked with everyday essentials (bedding, kitchen items, pool accessories, etc.) and stylishly decorated, with comfortable furnishings. Seriously, the beds were better than ones at most 'luxury' hotels I've stayed in. Pool and hot tub were also great. Drew himself was very responsive, clear and informative in his communications, and easy and great to work with. The entire process, from booking to checking out, was hassle and worry free. I would definitely love to stay here again." - George, 6/01/2016 (AirBnB Review)
"Drew - thank you! We had a great time at a great property. You've got a perfectly tuned system in place for for hosting guests - thanks for making it stress-free! We'll be back. Marc" - Marc, 4/01/2016 (AirBnB Review)